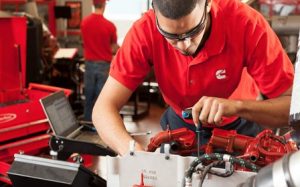 REENGINE offers a specific, exclusive and professionally qualified service. It provides its customers a group of qualified experts who has undertaken and pursued a path of professional growth for a long time. A targeted service, with on-site assistance, is guaranteed on the national and international territory by our mobile workshops in order to satisfy the customer's needs. We also offer remote technical assistance, an additional service solution that our customers can enjoy.
REENGINE is the official dealer of Cummins engines, generators, Cummins original spare parts and Fleetguard filters, and also carries out technical assistance for all Cummins brand engines for the various sectors of application.
Professionalism, experience and passion for our work are the guidelines of our business.
REENGINE deals with:
– Maintenance of generators engines, co-generation and naval;
– Ordinary and extraordinary maintenance on cogeneration and energy production throughout Italy;
– Rebuilding and remanufacture of internal combustion engines and parts of them (cylinder heads, turbines, monoblocks, injection pumps, injectors, crankshafts);
– Rebuilding of transmission shafts;
– Supply of overhauled and new engines;
– Supply of Cummins Engines, Cummins Spare Parts, Onan, CPG Generators (Cummins Power Generation), Fleetguard Filters (Cummins Filtration), Valvoline Lubricants (Cummins Global Partner Spare Parts Supply
– Supply of spare parts (AIFO, IVECO, DEUTZ, MERCEDES, MAN, DETROIT, VM, CUMMINS, CATERPILLAR, PERKINS, MTU, VF VENIERI, DOOSAN, VDL)
– Corrying out of customized marine generators sets with Rina certificatio